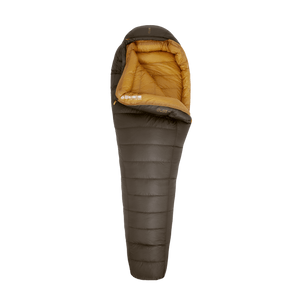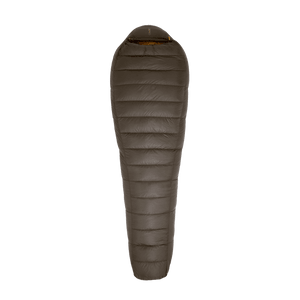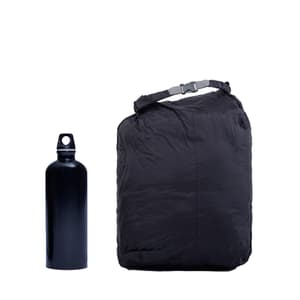 Ultra -20°
Extra warm, lightweight and packable
Winter sleeping bag
lightest construction with recycled Pertex Quantum shell fabric
adjustable elliptical draft collar
double zipper flap
Ultra -20° S left
Prod. no. 7640445456821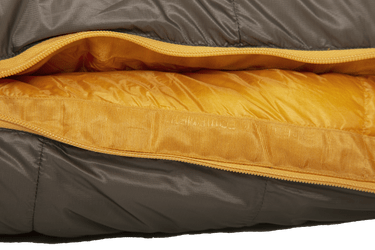 The thick draft tube backing the YKK zipper provides excellent heat retention. The anti-snag stiffener ensures smooth operation of the zipper.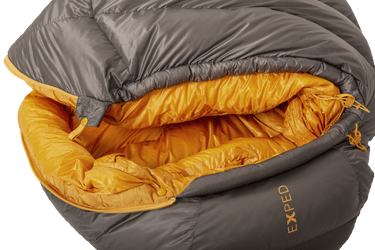 The elliptical draft collar with elastic cinch cord allows the collar to be fully closed over the shoulders, keeping warmth inside the sleeping bag with reduced material bunching.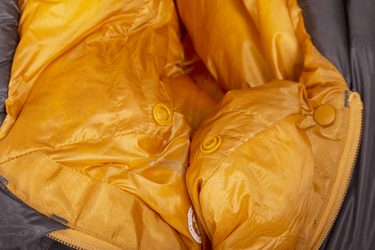 The elliptical draft collar can be closed with a snap to ensure all-round insulation.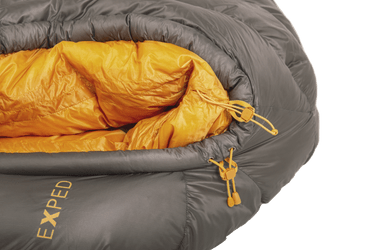 The Hood and Draft collar can be cinched closed and adjusted with cords.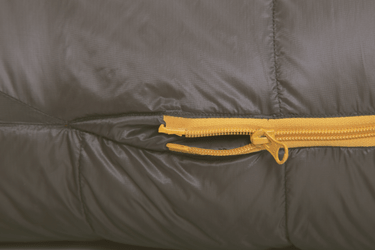 The double ended zipper has reinforced sewing to increase strength in sensitive areas.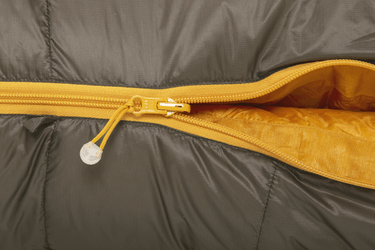 The glow-in-the-dark zipper puller makes it easier to find.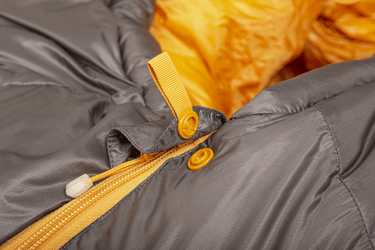 The large zipper garage keeps the zipper head away from the face.
Product description
The Ultra -20° is the true winter champion in the Ultra series. With its wide cut and thick down filling, it is perfectly equipped for use in the cold seasons. It is aimed at all users who want to be on the safe side when sleeping down to 20 degrees below zero in terms of sleeping comfort.

To meet the high demands of icy winter nights, the Ultra -20° has an intricately designed 3D hood that is cut slightly wider. The adjustable elliptical draft collar nestles around the neck and reduces draft and heat loss to a minimum.
Additionally, the Ultra -20° has an intricately designed, comfortable 3D triangle footbox. The double zippered flap that extends into the footbox prevents unpleasant cold spots.
The filling of RDS-certified goose down with 850+ cuin fill power is arranged in I-beam baffles. This prevents down shift and keeps the filling in place even in the coldest of temperatures - the Ultra -20° can be relied on one hundred percent. The Ultra -20° is therefore aimed at an exclusive circle of users. It is the perfect companion for winter treks, winter bivouacs or dog sledding.

The Ultra sleeping bag is available in five different sizes - so anyone can find the right option!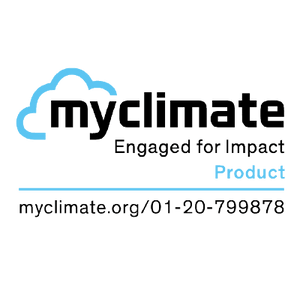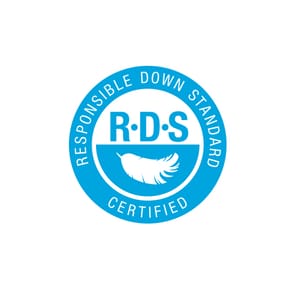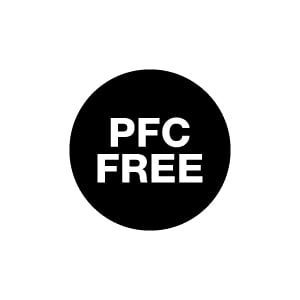 Fill weight
M: 32.7 oz
MW: 36 oz
L: 35.2 oz
LW: 39 oz
Length
S: 76.8 in
M: 79.9 in
MW: 79.9 in
L: 85.8 in
LW: 85.8 in
Packed Dimensions
S: 11.4 x 11.4 x 5.9 in
M: 11.4 x 11.4 x 6.3 in
MW: 12.6 x 12.6 x 5.9 in
L: 11.4 x 11.4 x 7.1 in
LW: 12.6 x 12.6 x 7.1 in
Color Inside
butterscotch
Weight
S: 45.9 oz
M: 48 oz
MW: 50.4 oz
L: 56.1 oz
LW: 52.7 oz
Shoulder width
S: 59.8 in
M: 61.4 in
MW: 64.2 in
L: 62.6 in
LW: 65.4 in
Delivery contents
Sleeping Bag
Packsack
Mesh storage bag
Up to body size
S: 67 in
M: 71 in
MW: 71 in
L: 77 in
LW: 77 in
Foot width
S: 38.2 in
M: 39.4 in
MW: 41.3 in
L: 40.6 in
LW: 42.5 in
Shell Fabric
recycled 10 D ripstop nylon Pertex Quantum
bluesign® certified
PFC free
Liner
15 D ripstop nylon
Oeko-Tex® 100 certified
PFC free
DWR free
Fill
850+ cuin/oz European Goose Down (US 90 / 10)
RDS certified
Oeko-Tex® 100 certified
PFC free
Product with Climate Contribution
EXPED calculates all climate emissions from the production and transportation of this product and finances certified climate protection projects through myclimate to an equal extent.
declaration
Responsible Down Standard (RDS)
RDS is the strictest standard for animal welfare in the production of down. EXPED uses 100% certified down in all down products.
more about RDS
Recycled materials
More and more EXPED products are made from recycled materials. Materials gained from previously made materials -such as PET-bottles or waste from the production of textiles.
Oeko-tex certified material
Oeko-Tex® is a testing and Certification system for raw materials and finished products. EXPED does not feature fully tested products. The listed products aren't certified under this standard. Only accordingly specified materials are certified.
oeko-tex.com
Bluesign certified material
Bluesign®, the world's strictest textile standard for environmental protection and consumer protection in textile production. The listed products aren't certified under this standard. Only accordingly specified materials are certified.
bluesign.com
PFC-free
Abbreviation for Per- or poly fluorinated chemicals, also known as fluorcarbons. Non degradable and accumulating toxic chemicals used for waterproofing.
What are EN values for sleeping bags?
The EN (European Standard) rating is a rigorous test designed to set measurable goals and standardize the marketing of sleeping bags. It is designed to help consumers make an informed decision by using independently derived temperature ratings.
Each EN sleeping bag test results in four temperature ratings - upper limit, comfort, lower limit and extreme, with the following definitions:
From Wikipedia:
Upper limit - the temperature at which a normal man* can sleep without excessive perspiration. It is made with the hood and zippers open and with the arms outside the pocket.
Comfort - the temperature at which a normal woman* can expect to sleep comfortably in a relaxed position.
Lower limit - the temperature at which a normal man can sleep in a curled position for eight hours without waking up.
Extreme - the minimum temperature at which a normal woman can stay for six hours without risk of death from hypothermia (although frostbite is still possible).
For the purpose of these measurements, it is assumed that a "normal man" is 25 years old, 1.73 m tall, and 73 kg; a "normal woman" is 25 years old, 1.60 m tall, and 60 kg.
The three most common ratings are comfort, (lower) limit, and extreme. For men's bags, most companies advertise the Limit rating, and for women's bags, the Comfort rating, although it can vary."
How should I store my sleeping bag?
It is best to store the sleeping bag in the mesh storage bag provided. This will ensure that the insulation retains its maximum bulk and thermal performance. When traveling, it is okay to compress the sleeping bag and carry it in the included stuff sack.
When you return from a trip, it is very important to let your sleeping bag dry completely. Then store it in the mesh storage bag in a dry and temperature controlled place.
How do I wash my sleeping bag?
If you wash your sleeping bag too often, the insulation can suffer (down or synthetic). The insulating power may decrease. We recommend cleaning the sleeping bag with a damp sponge. If the sleeping bag needs a more thorough cleaning, use only a front-loading machine (no agitator!) and a special detergent from Nikwax or McNett.
Before you put the bag in the washing machine, close the zipper. Use a cold water and gentle wash cycle, and after the wash cycle is complete, run a second rinse cycle without detergent. This will ensure that all detergent residue is removed. Two spin cycles will help get a lot of moisture out of the sleeping bag.
It is best to hang the sleeping bag afterwards and air dry it. Keep massaging the sleeping bag the down tufts apart. Depending on the humidity, it may take several days to dry completely. If you need to dry it faster, use a tumble dryer on low heat (often there are special down drying programs). To loosen up the down in the dryer, you can put some tennis balls in the dryer with it.