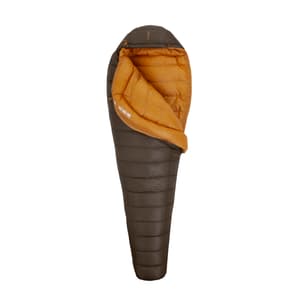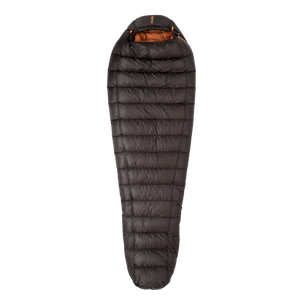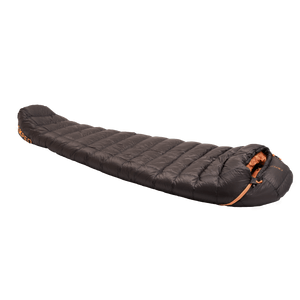 Ultra -5°
The extremely lightweight and compact 3-season sleeping bag
lightest construction with recycled Pertex Quantum shell fabric
adjustable elliptical draft collar
downshift function for enhanced heat distribution
Ultra -5° S left
Prod. no. 7640445456760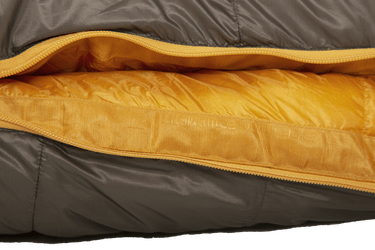 The thick draft tube backing the YKK zipper provides excellent heat retention. The anti-snag stiffener ensures smooth operation of the zipper.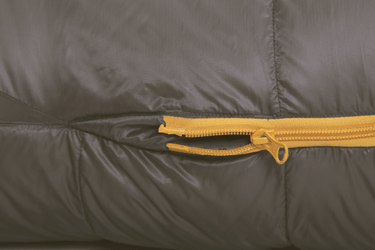 The double ended zipper has reinforced sewing to increase strength in sensitive areas.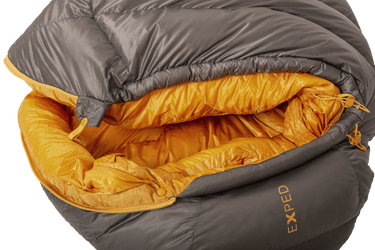 The elliptical draft collar with elastic cinch cord allows the collar to be fully closed over the shoulders, keeping warmth inside the sleeping bag with reduced material bunching.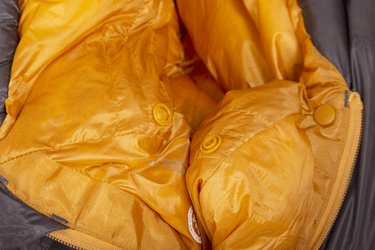 The elliptical draft collar can be closed with a snap to ensure all-round insulation.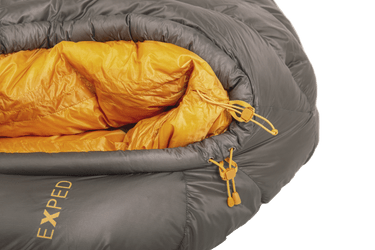 The Hood and Draft collar can be cinched closed and adjusted with cords.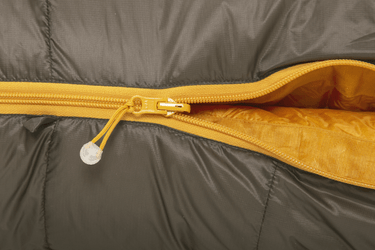 The glow-in-the-dark zipper puller makes it easier to find.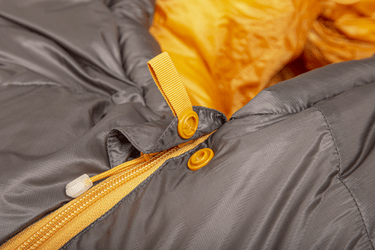 The large zipper garage keeps the zipper head away from the face.
Product description
The Ultra -5° is an extremely lightweight, compact 3-season sleeping bag for those who do not compromise in their equipment selection.
Perfect for trekking, long-distance hiking, mountain touring and bivouacs. For all those who are looking for a lightweight sleeping bag with the widest possible range of use. With the Ultra -5°, the pack weight can be reduced to an absolute minimum.

The filling of finest, RDS-certified goose down with 850+ cuin fill power gives it an excellent, uniform thermal performance. The circumferential, I-beam down baffles allow the down to be shifted as needed, adapting the sleeping bag to the given outside temperature and the sleeping mat being used.

However, the focus of the Ultra series is not only on the filling, Exped also employs only the finest of the finest when it comes to manufacturing. Pertex Quantum is applied as the shell fabric, which is made entirely of recycled polyamide. Components such as the zipper and webbing are made of recycled PET bottles.
The Ultra sleeping bag features the intricately designed, comfortable 3D triangle footbox, and the zipper flap prevents unpleasant cold spots. The adjustable elliptical draft collar nestles around the neck, minimizing draft and heat loss.

The Ultra sleeping bag is available in five different sizes - so anyone can find the right option!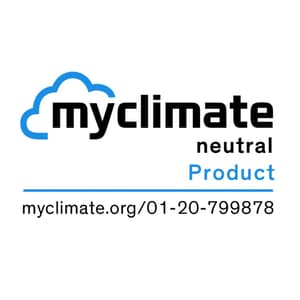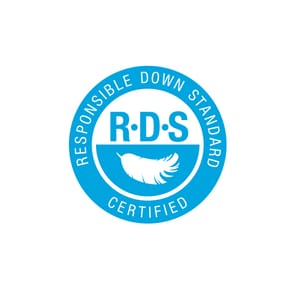 Fill weight
S: 15 oz
M: 15.9 oz
MW: 19 oz
L: 16.9 oz
LW: 21 oz
XL: 22.9 oz
Length
S: 76.8 in
M: 79.9 in
MW: 79.9 in
L: 85.8 in
LW: 85.8 in
XL: 90.6 in
Packed Dimensions
S: 10.6 x 6.7 x 6.7 in
M: 11.8 x 6.7 x 6.7 in
MW: 9.1 x 5.5 x 7.9 in
L: 9.1 x 5.5 x 5.9 in
LW: 9.1 x 5.5 x 7.9 in
XL: 9.1 x 5.9 x 8.7 in
Weight
S: 27.9 oz
M: 28.9 oz
MW: 32.8 oz
L: 30.7 oz
LW: 34.9 oz
XL: 36 oz
Shoulder width
S: 57.9 in
M: 58.3 in
MW: 64.2 in
L: 59.4 in
LW: 65.4 in
XL: 65 in
Color Inside
butterscotch
Up to body size
S: 67 in
M: 71 in
MW: 71 in
L: 77 in
LW: 77 in
XL: 83 in
Foot width
S: 37.8 in
M: 37.8 in
MW: 39 in
L: 39 in
LW: 39 in
XL: 39 in
Shell Fabric
10 D recycled ripstop nylon
bluesign® certified
PFC free
Liner
15 D ripstop nylon
Oeko-Tex® 100 certified
Fill
850+ cuin/oz premium european 90/10 (EN-Standard) goose down
RDS certified
Oeko-Tex® 100 certified
Climate neutral product
EXPED measures and fully offsets all global warming gases (CO2 equivalents) from manufacturing and shipping this product.
climate protection declaration
Responsible Down Standard (RDS)
RDS is the strictest standard for animal welfare in the production of down. EXPED uses 100% certified down in all down products.
more about RDS
Oeko-tex certified material
Oeko-Tex® is a testing and Certification system for raw materials and finished products. EXPED does not feature fully tested products. The listed products aren't certified under this standard. Only accordingly specified materials are certified.
oeko-tex.com
Bluesign certified material
Bluesign®, the world's strictest textile standard for environmental protection and consumer protection in textile production. The listed products aren't certified under this standard. Only accordingly specified materials are certified.
bluesign.com
Recycled materials
More and more EXPED products are made from recycled materials. Materials gained from previously made materials -such as PET-bottles or waste from the production of textiles.