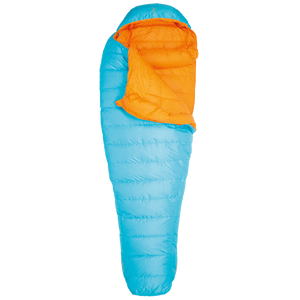 Winterlite -15° Wmns
Women's model for winter mountaineering and harsh environments
10 - 15 % additional down filling in the foot and torso sections
water-repellent, windproof, breathable shell fabric
ergonomic fit provides efficient insulation performance
Winterlite -15° Wmns S left
Prod. no. 7640171999456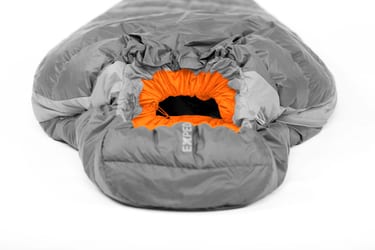 The generous 3-D draft collar with elastic cord closure is simple to use, does not feel tight when used and can be opened easily when necessary.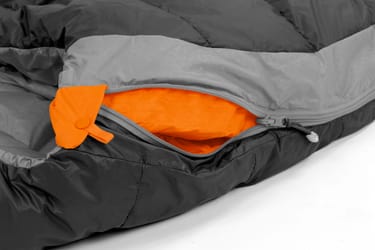 Stay warm while using your arm. Close the snap button, open the self-locking zipper and slip your arm through the gap. The hood stays in place and keeps you cozy.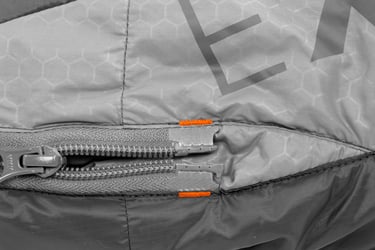 Bartack reinforcements where necessary for enhanced durability.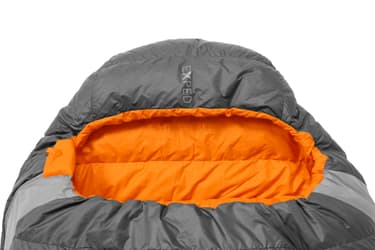 The large hood opening ensures a comfortable fit. When cinched tight on cold nights it seals accurately around mouth and nose. The inner lining doubles as the cinch cord guard preventing pressure on forehead and nose when the hood is closed. And the hood is large enough to hold a pillow.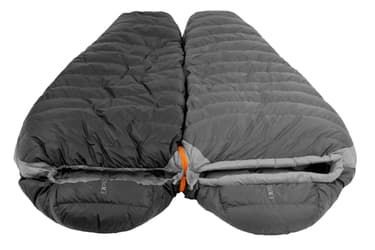 The sleeping bag is available in right and left hand zipper versions. Two bags from the Expedition, Trekking and Basecamp series (from 2015) can be coupled together. The YKK #5 zipper on the bags is always of the same length.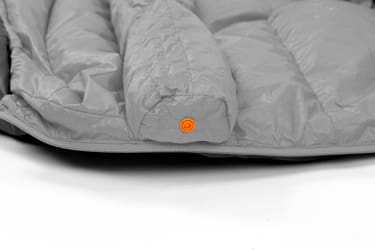 Snap button closes the draft collar. No hoop and loop tabs that attach to hair etc.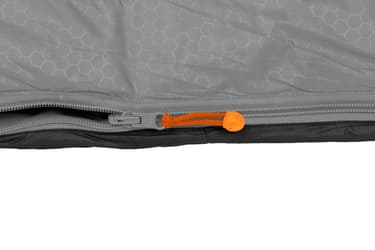 Zipper pullers feature glow-in-the-dark tabs.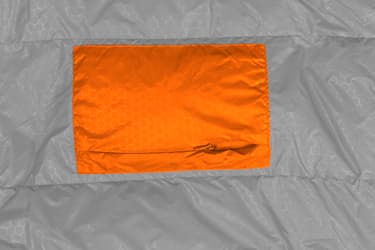 Internal hidden pocket to secure small personal items or keep batteries warm.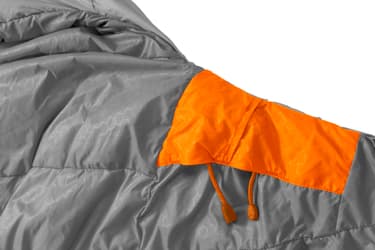 Intuitive and ergonomically placed hood closure system for easy handling and accurate closure. Hidden within the hood to prevent pressure on forehead and nose by the cords. Differing caps on upper and lower cord improve handling in the dark.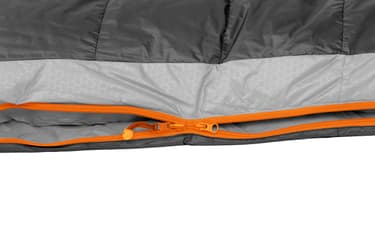 Two-way zippers increase flexibility and allow the bag to be opened at the foot-end for temperature regulation.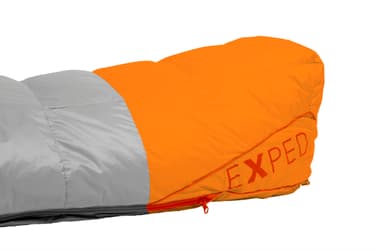 Designed to cradle the feet in uncompressed insulation, this unique footbox eliminates cold spots. Internal baffles form a multi-faceted array of down chambers for extremely efficient heat conservation in this critical area.
Product description
The Winterlite -15° Wmns is specially tailored to the needs of women and has additional down insulation in the foot and torso sections. Making it the perfect choice for harsh weather conditions and demanding adventures in cold temperatures. The water-repellent, windproof shell fabric is made of a PFC free PU coating. It is lightweight and vapor permeable and protects against moisture or condensation. Ideal for sleeping under a tarp or in a snow shelter. The clever tuck-stitch technology ensures durability and optimal moisture control.

The Winterlite features an ergonomic fit for enhanced thermal performance as well as a proportional differential cut. The 3D foot box with 11 individually filled down chambers keeps feet warm. A puffy draft collar retains warmth within the sleeping bag.

Only RDS certified down is used in the Winterlite. All Winterlite sleeping bags can be paired with each other, with other EXPED models, as well as with most sleeping bags from other brands.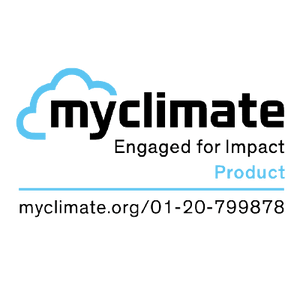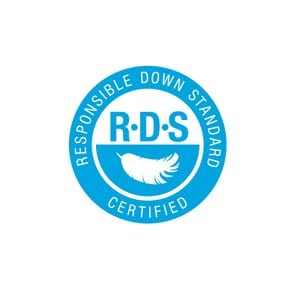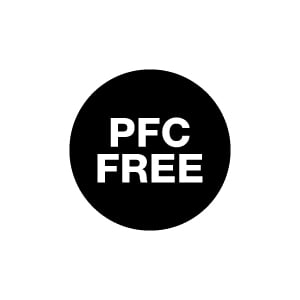 Fill weight
S: 29.6 oz
M: 30.3 oz
Length
S: 76.8 in
M: 80.7 in
Packed Dimensions
S: 11 x 6.3 x 5.9 in
M: 11 x 6.3 x 6.3 in
Water resistance
Windproof
Weight
S: 46.2 oz
M: 48.7 oz
Shoulder width
S: 59.1 in
M: 59.8 in
Delivery contents
Sleeping Bag
Packsack
Mesh storage bag
Up to body size
S: 67 in
M: 71 in
Foot width
S: 38.2 in
M: 38.2 in
Shell Fabric
20 D ripstop nylon Neovent-S
1000 mm water column
MVTR 7000 g/m²/24h
bluesign® certified
PFC free
Liner
30 D nylon
Oeko-Tex® 100 certified
PFC free
DWR free
Fill
800+ cuin/oz European Goose Down (EN 90 / 10)
RDS certified
Oeko-Tex® 100 certified
PFC free
Product with Climate Contribution
EXPED calculates all climate emissions from the production and transportation of this product and finances certified climate protection projects through myclimate to an equal extent.
declaration
Responsible Down Standard (RDS)
RDS is the strictest standard for animal welfare in the production of down. EXPED uses 100% certified down in all down products.
more about RDS
Oeko-tex certified material
Oeko-Tex® is a testing and Certification system for raw materials and finished products. EXPED does not feature fully tested products. The listed products aren't certified under this standard. Only accordingly specified materials are certified.
oeko-tex.com
Bluesign certified material
Bluesign®, the world's strictest textile standard for environmental protection and consumer protection in textile production. The listed products aren't certified under this standard. Only accordingly specified materials are certified.
bluesign.com
PFC-free
Abbreviation for Per- or poly fluorinated chemicals, also known as fluorcarbons. Non degradable and accumulating toxic chemicals used for waterproofing.
What are EN values for sleeping bags?
The EN (European Standard) rating is a rigorous test designed to set measurable goals and standardize the marketing of sleeping bags. It is designed to help consumers make an informed decision by using independently derived temperature ratings.
Each EN sleeping bag test results in four temperature ratings - upper limit, comfort, lower limit and extreme, with the following definitions:
From Wikipedia:
Upper limit - the temperature at which a normal man* can sleep without excessive perspiration. It is made with the hood and zippers open and with the arms outside the pocket.
Comfort - the temperature at which a normal woman* can expect to sleep comfortably in a relaxed position.
Lower limit - the temperature at which a normal man can sleep in a curled position for eight hours without waking up.
Extreme - the minimum temperature at which a normal woman can stay for six hours without risk of death from hypothermia (although frostbite is still possible).
For the purpose of these measurements, it is assumed that a "normal man" is 25 years old, 1.73 m tall, and 73 kg; a "normal woman" is 25 years old, 1.60 m tall, and 60 kg.
The three most common ratings are comfort, (lower) limit, and extreme. For men's bags, most companies advertise the Limit rating, and for women's bags, the Comfort rating, although it can vary."
How should I store my sleeping bag?
It is best to store the sleeping bag in the mesh storage bag provided. This will ensure that the insulation retains its maximum bulk and thermal performance. When traveling, it is okay to compress the sleeping bag and carry it in the included stuff sack.
When you return from a trip, it is very important to let your sleeping bag dry completely. Then store it in the mesh storage bag in a dry and temperature controlled place.
How do I wash my sleeping bag?
If you wash your sleeping bag too often, the insulation can suffer (down or synthetic). The insulating power may decrease. We recommend cleaning the sleeping bag with a damp sponge. If the sleeping bag needs a more thorough cleaning, use only a front-loading machine (no agitator!) and a special detergent from Nikwax or McNett.
Before you put the bag in the washing machine, close the zipper. Use a cold water and gentle wash cycle, and after the wash cycle is complete, run a second rinse cycle without detergent. This will ensure that all detergent residue is removed. Two spin cycles will help get a lot of moisture out of the sleeping bag.
It is best to hang the sleeping bag afterwards and air dry it. Keep massaging the sleeping bag the down tufts apart. Depending on the humidity, it may take several days to dry completely. If you need to dry it faster, use a tumble dryer on low heat (often there are special down drying programs). To loosen up the down in the dryer, you can put some tennis balls in the dryer with it.