Basecamp is ready
As part of the reconstruction of the popular SAC hut "Glärnisch" in the summer of 2023, a basecamp is being constructed nearby, offering a similar experience to those found in the Himalayas, but much closer to home. The basecamp includes tents, mats, and sleeping bags provided by EXPED.
14.6.2023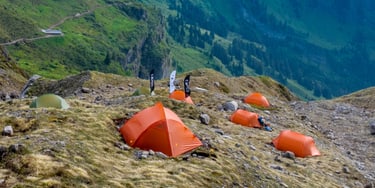 Imagine a Basecamp in the Swiss Alps that resembles those found in the Himalayas. This summer, you can have that experience right by the SAC hut "Glärnisch" in Glarnerland. The hut is undergoing renovation and rebuilding, and during this time, visitors have the opportunity to stay overnight in the Basecamp. 
Operated by the "Alpinschule Glarnerland" in collaboration with EXPED and Tödisport, this remarkable camp was set up last week against a breathtaking backdrop. Take a look at the first impressions of the laborious construction process.
Immerse yourself in the Basecamp atmosphere as you enjoy the sunset in front of your tent, surrounded by awe-inspiring peaks and gather comfortably in the large dome tent – this unique place truly captures the essence of a Basecamp. Until October, guests have the chance to experience EXPED up close, sleeping in an EXPED tent, using an EXPED sleeping bag, and resting on an EXPED mat.
As an innovative Swiss brand for outdoor equipment, we feel right at home in the mountains. Therefore, we are thrilled to be part of this fantastic project and to support the Basecamp with our products.