"Goldfish" – Roger Schäli manages first ascent on Meru Peak
Together with Mathieu Maynadier and Simon Gietl, our brand ambassador Roger Schäli succeeded in making the first ascent of the southeast face of Meru Peak. They named the challenging route "Goldfish".
24.5.2023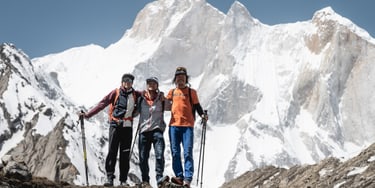 They did it! There is now a new route on the 6660-meter-high Meru Peak in the Garhwal Himalayas. On May 13, 2023, the international expedition team of Roger Schäli, Mathieu Manadier and Simon Gietl made the first ascent of the southeast face. The three gave the 800-meter alpine-style route the name "Goldfish" and rated it M6+ A1 difficulty. 
"The particular difficulty of the route lies in the combination of the climbing difficulties, the demanding protection, the high altitude and the numerous alpine dangers such as avalanches or cornice failures"
Roger Schäli 
Success at the second attempt
Schäli and Maynadier already made an attempt four years ago together with Sean Villanueva, but had to turn back at around 6,400 meters. The conditions were not ideal at first for the second attempt in 2023 either. Avalanche danger and unsettled weather made life difficult for the climbers. 
On May 11, the three alpinists took advantage of the long-awaited weather window and started from Basecamp Tapovan (4300 meters) directly to camp C2 at 5800 meters. Since Maynadier was struggling with health problems, he used the time to rest while Schäli and Gietl tracked part of the route and deposited climbing gear on the rock. 

The following day, the rope team was able to start again as a threesome. The climb was very intense and time-consuming, Roger Schäli recounts. "At times we had to clear the rock of up to half a meter of fresh snow before we could lay an intermediate belay. And there was no ice to occasionally set an ice screw." After a restless night in the bivouac and more vertical meters, Schäli, Gitl and Maynadier made it to the ridge and from there across an ice flank to the main summit. "Big dreams need more than one attempt," Roger Schäli wrote on Instagram after the success.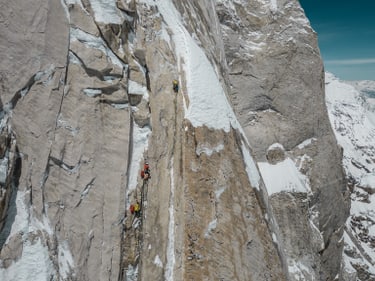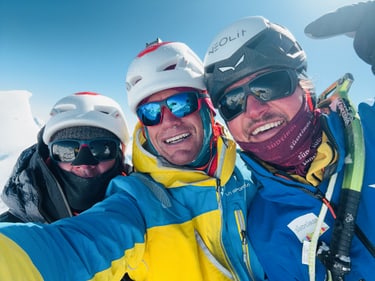 The three climbers chose the name with a wink. Goldfish - in reference to the 6310-meter-high middle peak, which was first climbed by Valeri Babanov in 2001. We say congratulations on this achievement. 
"Sometimes it's better to be a goldfish when it's already teeming with sharks."
Roger Schäli