Icefall: the alpine touring pack in a class of its own
With the robust and versatile Icefall, we are launching a new alpine touring backpack just in time for the start of winter. In all four seasons, this pack is a reliable companion for mountain professionals.
13.12.2022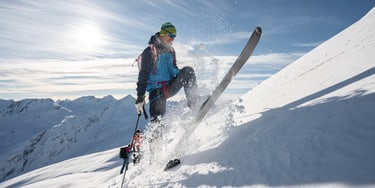 With the Icefall, EXPED redefines the alpine backpack category - especially when it comes to the durability to weight ratio. With this new, weatherproof touring backpack, we are targeting demanding mountain sports professionals who are out and about in the backcountry in all seasons.
The Icefall's spacious main compartment can be accessed not only from above through the roll closure, but also from the side via zipper - ensuring quick access even in technical terrain. In combination with the white, high-contrast material, the Icefall offers alpinists the best possible performance.
The newly designed attachment allows skis or ice tools to be secured tightly preventing any wobbling. The Icefall also features the space necessary for avalanche safety equipment in a generous zippered front compartment. If you want to keep the weight of the Icefall to a minimum, you can simply remove the compression straps amongst other features to save up to 300g.
To make the Icefall an indestructible mountain ace, EXPED crafts the pack from a special bluesign® certified UHMPE fabric. It is very light in weight, but also extremely abrasion and tear resistant. The perfect match for demanding mountain adventures.
The Icefall is available in three volumes and two back lengths (30l, 40l and 50l).