We have been working in close partnership with most of our suppliers for over 10 years. This consistency is fundamental to sustainable development in the factories. We always draw up our production planning in collaboration with our suppliers. This enables the factory to operate with minimal overtime and guarantees that production work is not outsourced to a factory we are not familiar with. We visit all factories regularly and maintain an intensive dialogue. By respecting our manufacturers and their cost structures, we believe that we, as a small brand with limited resources, can still make an important contribution.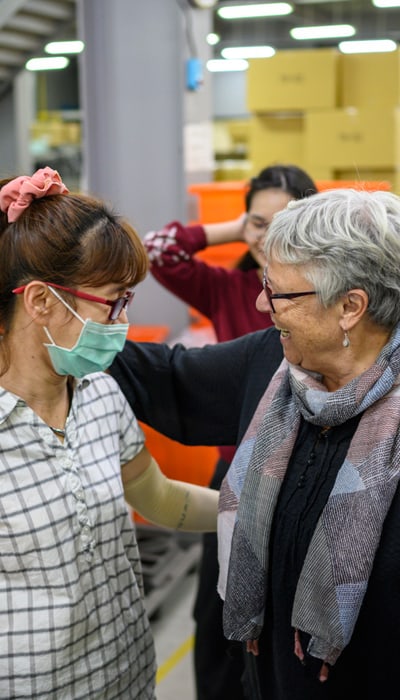 Feng Yi is an established mat manufacturer based in Taichung City in Taiwan and has been producing the well-known mats for EXPED for over 20 years.
Collaboration
The partnership between EXPED and Feng Yi goes back to 1997. The founders Andi and Heidi Brun were looking for a producer of inflatable mats and got to know the Feng Yi bosses. This resulted in a cooperation that has lasted for over 20 years. With its roots in mechanical engineering, Feng Yi turned out to be an ideal partner in the technical field.
Over the years, they have worked together on new ideas and innovative solutions. In order to meet EXPEDs quality demands, special testing equipment and unique machines were developed. After its foundation in 1994, Feng Yi specialised in the production of self-inflating mats and then continued to develop. Today, the factory produces valves, inflatable mats, drybags and other lightweight outdoor accessories. Feng Yi also provided EXPED with significant support in preparing the life cycle assessment of the mats.
In terms of social responsibility, Feng Yi has its own sustainability department. The factory undergoes several verified audits every year and records its emissions as carefully as the employees' working hours and conditions. At Feng Yi, for example, safety standards are always adhered to, the workplaces are bright, the fabric also cares about environmental issue positively and support customer's sustainability issues. These points are also very important to Andi and Heidi. The EXPED founders visit the factory in Taiwan as often as possible to see for themselves on site. This has developed into a solid partnership and almost a friendship.
Report with Transa
Four employees of Transa Backpackig AG visited the production facility in Taiwan together with Andi and Heidi at the beginning of 2020.
Facts and Figures
Name: Feng Yi outdoor Leisure Equipment Enterprise Co., Ltd.
Website: fengyi.com.tw
Headquarters: Taichung City, Taiwan
Year of foundation: 1994
Number of employees: 218
Higg Facility Environmental Module: reporting since 2017
Higg Social and Labour Module: reporting since 2020