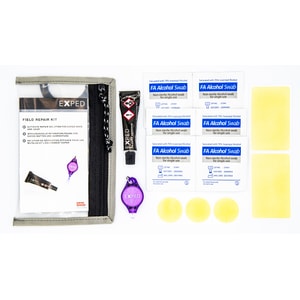 Field Repair Kit
High quality repair kit for mats
convenient UV adhesive dries in 30 seconds
mini UV light included
2 TPU patches and 6 alcohol swabs for cleaning
25.95 USD
Field Repair Kit
Prod. no. 7640445452427
Product description
The practical Field Repair Kits a high-quality repair set for mats - ideal for on the road or at home.

With the extremely fast-drying UV adhesive and the included mini UV light, holes and other damage are repaired within seconds. TPU patches which provide additional abrasion resistance are included. The included alcohol swabs are the best way to prepare the damaged area prior to repair.
Delivery contents
1 tube UV curing glue
Key chain mini UV light
2 rectangular transparent TPU patches
3 circular transparent TPU patches
6 alcohol swabs
Instruction sheet
Made in Taiwan: Feng Yi
Feng Yi is an established mat manufacturer based in Taichung City in Taiwan and has been producing the well-known mats for EXPED for over 20 years.
more about our partner companies