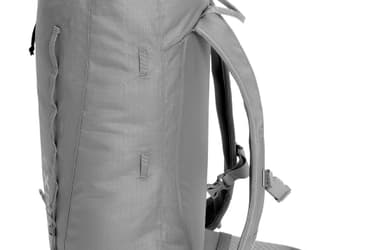 Clean, single compartment pack in a very versatile size. Its slim shape puts the center of gravity close to the body for superior load control. Ideal load distribution at all times even when partially full.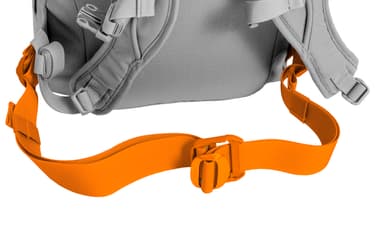 Removable waist strap. The dual adjust waist strap buckle, in an aluminum/plastic material mix, is extremely robust and crush resistent.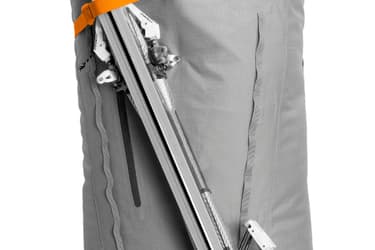 Diagonal ski carry option: length adjustable daisy chain base web loop acts as lower ski loop. The top compression strap also double functions as top ski attachment loop. Alternatively, with the addition of Exped accessory straps (not included), skis can be carried in A-frame mode. Carabiners are not included.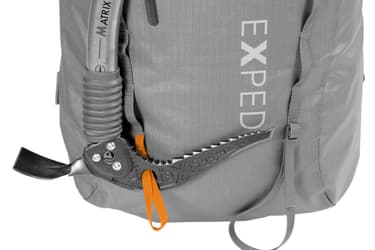 First step is to thread the ice axe loop through the "head hole" of the modern ice tool.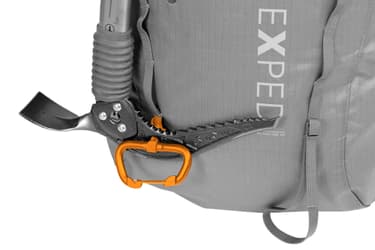 Second step: attach the carabiner (which every mountaineer will have anyway) to the ice axe loop in order to secure the ice tool. If necessary, the (non-extendable) loop can be shortened (with a knot) to secure the ice tool closer to the backpack.
Product description
The Black Ice 45 is a minimalist and featherweight roll-top backpack that meets the high demands of modern alpinism. It is the perfect companion for mountain touring, be it on rock, snow or ice. 

The high-quality, waterproof rip-stop Nylon shields against moisture with a water column of 10,000 mm. Two carefully positioned daisy chains on the outside provide attachment points for equipment. The white inner coating made of a TPU film laminate provides good overview of contents. A weatherproof, front zippered pocket provides rapid access to smaller items and maps and compass.

The simple, yet purposefully padded back system provides a close-to-body fit and direct load transfer. The wide, removable hip belt makes the Black Ice comfortable to carry even with heavier load.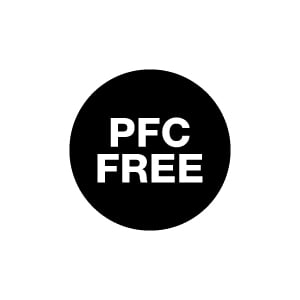 Max. Weight
M: 28.9 oz
L: 30 oz
Load limit
M: 33.1 lb
L: 33.1 lb
Dimensions
M: 27.2 x 12.6 x 9.8 in
L: 27.2 x 12.6 x 9.8 in
Backlength
M: 19 - 21 in
L: 21 - 22 in
Water resistance
Waterproof
Min. Weight
M: 23.3 oz
L: 23.8 oz
Hipbelt size
M: 13 - 59 in
L: 13 - 59 in
Color Inside
black: white
forest: white
chili: white
Material
400 D ripstop nylon
TPU film laminate
10,000 mm water column
PFC free
Pack suspension
Removable PE foam board
PFC-free
Abbreviation for Per- or poly fluorinated chemicals, also known as fluorcarbons. Non degradable and accumulating toxic chemicals used for waterproofing.
Made in China: Jasper Outdoor Products
Founded in 1996, Jasper Outdoor Products is one of the world's leading manufacturers of outdoor products.
more