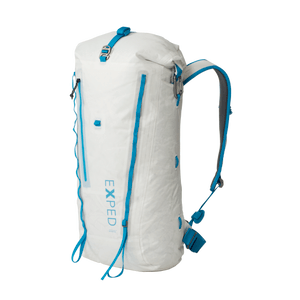 WhiteOut 30
Extremely lightweight, robust, waterproof alpine backpack with that extra touch
unique, lightweight Dyneema® composite fabric
seam taped, waterproof main compartment
perfect for mountaineering and expedition use
299.95 USD
WhiteOut 30 S white
Prod. no. 7640171995809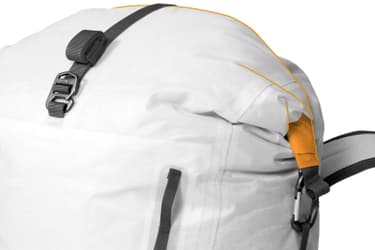 User-friendly fold and roll closure for waterproof performance. Just roll at least 3x, then snap the buckles/carabiners shut. Fold and roll closure allows you to vary the pack height.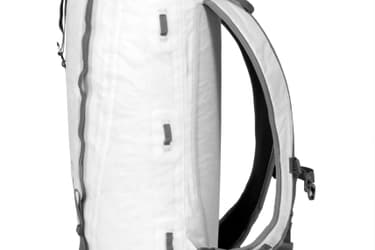 Clean, single compartment pack in a very versatile size. Its slim shape puts the center of gravity close to the body for superior load control. Ideal load distribution at all times even when partially full.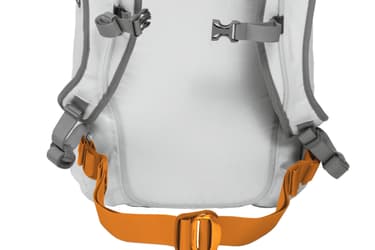 Removable waist strap. The dual adjust waist strap buckle, in an aluminum/plastic material mix, is extremely robust and crush resistant.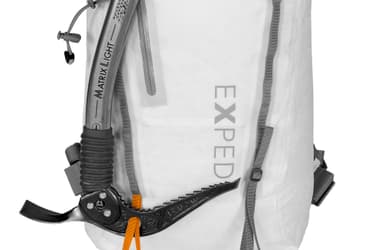 There is a simple trick for attaching modern ice tools (without ice tool shovels): first step is to thread the ice axe loop through the "head hole" of the ice tool.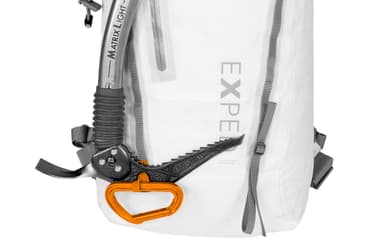 Second step: attach a carabiner (which every mountaineer will have anyway) to the ice axe loop in order to secure the ice tool. If necessary, the (non-extendable) loop can be shortened (with a knot) to secure the ice tool closer to the backpack.
Product description
Tougher, lighter and simply cooler, the waterproof Whiteout 30 is made of the unique Dyneema® Composite fabric. It is 10% lighter, 30% thinner and 30% stronger than comparably heavier high-end Nylon fabrics. This makes this pack the ultimate companion for mountaineering and expedition use.

The roll-top closure and seam taped, waterproof main compartment offer ultimate protection against the elements. Two daisy chains on the pack provide attachment points for gear. A weatherproof, front zippered pocket provides quick access to smaller items, maps and compass.

The simple yet purposeful padded back construction provides a close-to-body fit and direct load transfer. The wide, removable hip strap makes the Whiteout comfortable to carry even under heavier loads.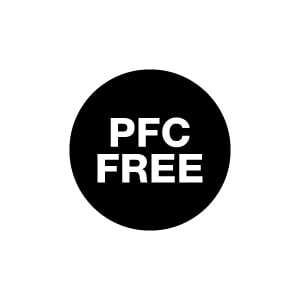 Max. Weight
S: 23.3 oz
M: 24.2 oz
Load limit
S: 28.7 lb
M: 28.7 lb
Dimensions
S: 21.7 x 10.6 x 8.3 in
M: 22.4 x 10.6 x 8.7 in
Backlength
S: 17 - 19 in
M: 19 - 21 in
Min. Weight
S: 18.3 oz
M: 19 oz
Hipbelt size
S: 12 - 57 in
M: 12 - 57 in
Material
Dyneema® Composite fabric (150 D Polyester face fabric, Dyneema® grid, TPU Film inside)
20,000 mm water column
Pack suspension
Removable PE foam board
PFC-free
Abbreviation for Per- or poly fluorinated chemicals, also known as fluorcarbons. Non degradable and accumulating toxic chemicals used for waterproofing.
Are EXPED backpacks waterproof?
The EXPED backpack line includes both waterproof and weatherproof models. Waterproof means these backpacks keep water out unless submerged in water. Weatherproof means that the fabric and seams are completely waterproof, but zippers and hydration ports are water resistant and not 100% waterproof.
All other backpacks in the EXPED line have coated fabrics to prevent water penetration. These backpacks do not have taped seams. Typically, other features such as durability or weight reduction are the focus of these products and are designed to be used with our waterproof drybags to keep the contents dry.
Waterproof Models: Whiteout, Black Ice, Torrent, Work and Rescue, Typhoon, Kids Typhoon, Cloudburst, Splash, Stormrunner, Tempest
Weatherproof models: Serac, Icefall, Mountain Pro, Cascade