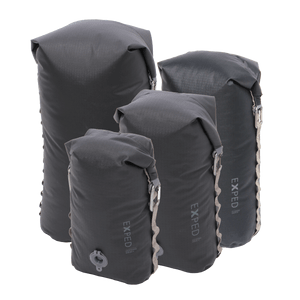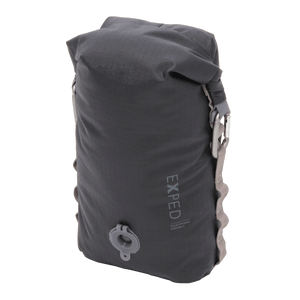 Fold Drybag Endura
Extremely robust, waterproof fold drybags with flat valve
Carabiner roll-top closure and integrated flat valve
side daisy chains offer attachment options
very robust, waterproof rip-stop fabric
64.95 USD
Fold-Drybag Endura 5 black
Prod. no. 7640147764378
Product description
The Fold-Drybag Endura is a very rugged, waterproof heavy-duty packsack made of durable rip-stop fabric. The practical oval shape prevents them from rolling around when stowed in a boats bow to save space.

In addition to the sturdy fabric, the Fold Drybag Endura comes with an unbreakable carabiner roll-top closure. They can be closed in the usual roll-top style, or clipped tight on the sides.

Useful daisy chains provide for multiple attachment options. That and due to the slim, compact shape, the Fold-Drybag Endura can also be strapped to the front of a backpack.
The integrated and proven EXPED Flat Valve simplifies and speeds up compression.

The durable ripstop fabric with white TPU film laminate keeps waterproof with a water column of 10,000 mm. The white inner coating provides a good overview.
Volume
5 l: 5 l
15 l: 15 l
25 l: 25 l
50 l: 50 l
Dimensions
5 l: 13.8 x 6.7 x 4.3 in
15 l: 17.7 x 9.1 x 6.3 in
25 l: 21.7 x 9.8 x 7.5 in
50 l: 26.3 x 13.8 x 9.8 in
Weight
5 l: 4.4 oz
15 l: 6.3 oz
25 l: 7.8 oz
50 l: 11.3 oz
Main material
420 D ripstop nylon
laminated
seam taped
PFC free