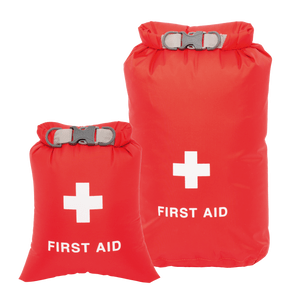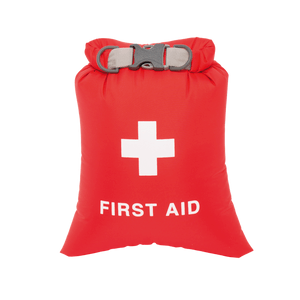 Fold Drybag First Aid
Waterproof fold dry bag for a first aid kit
two practical sizes with flat or oval shape
lightweight and durable, with white inner coating for overview
protects first aid kit from splash water and dust
17.95 USD
Fold-Drybag First Aid S
Prod. no. 7640147763180
Product description
The Fold-Drybags First Aid are practical waterproof and dustproof bags with roll-top closure. Featuring a signal red color, they have been specially designed for first aid kits.

They are available in two practical sizes: Size S in flat design, size M with oval 3D shape for a little more space. This useful pack sack is completely seam-taped and equipped with a lightweight roll-top closure system and sturdy buckles.

The durable PU-coated fabric is fully waterproof with a water column of 10'000 mm. The white inner coating provides good overview.
Water resistance
Waterproof
Dimensions
S: 7.1 x 5.1 in
M: 11.8 x 6.3 x 4.7 in
Weight
S: 0.8 oz
M: 1.3 oz
Material 1
70 D taffeta nylon
PU coated
seam taped
Oeko-Tex® 100 certified
DWR C6
Oeko-tex certified material
Oeko-Tex® is a testing and Certification system for raw materials and finished products. EXPED does not feature fully tested products. The listed products aren't certified under this standard. Only accordingly specified materials are certified.
oeko-tex.com
Made in China: Jasper Outdoor Products
Founded in 1996, Jasper Outdoor Products is one of the world's leading manufacturers of outdoor products.
more
What does the distinction between "waterproof", "weatherproof" and "water repellent" mean?
All backpack fabrics used by EXPED are by definition "waterproof" due to their coating and have a water column of at least 1500 mm. The distinction therefore relates primarily to construction and processing:
In "water-resistant" backpacks, water can enter the backpack through the seams and through the zippers.
We define "weatherproof" as backpacks with a water column of at least 3000 mm, which also have water-repellent zippers to the main compartment and seam-taped seams. Although the zippers are very water repellent, water can enter through the zipper during heavy rains.
Our backpacks labeled "waterproof" have a water column of 3000 to 10'000 mm, are also seam sealed or welded, but use water repellent zippers only on exterior compartments, not on the main compartment. The main compartment of these models have a waterproof seal by means of a roll top. In these models, we do not refer to exterior compartments with zippers as "waterproof", but only as "weatherproof". No rule without exception: A 100% waterproof Drysuit zipper is used on the Tempest Duffles.