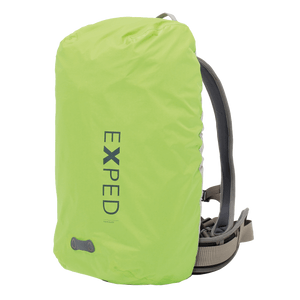 Rain Cover
Lightweight rain cover for non weatherproof backpacks
elastic wraparound drawstring for a snug fit
keeps the backpack dry due to taped seam construction
PU coated waterproof fabric
24.95 USD
RainCover S lime
Prod. no. 7640147762497
Product description
This custom fit rain cover provides perfect rain protection for all non-weatherproof backpacks. Thanks to the PU coating and taped seams, everything is guaranteed to stay dry.

The RainCover is equipped with an elastic wraparound drawstring and a cord stopper. This ensures a snug and flutter-free fit on the backpack.

A stuffsack is integrated in all RainCovers. Sizes S and M even have a holder for a bike light. The four different sizes cover most backpack sizes.
Weight
S: 2.5 oz
M: 3.4 oz
L: 3.9 oz
XL: 3.9 oz
Volume
S: 25 l
M: 35 l
L: 45 l
XL: 75 l
Water resistance
Waterproof