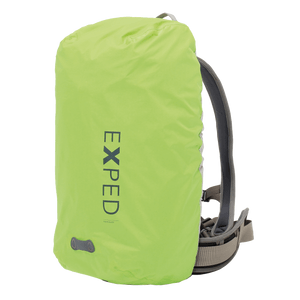 Rain Cover
Lightweight rain cover for non weatherproof backpacks
elastic wraparound drawstring for a snug fit
keeps the backpack dry due to taped seam construction
PU coated waterproof fabric
29.95 USD
RainCover S lime
Prod. no. 7640147762497
Product description
This custom fit rain cover provides perfect rain protection for all non-weatherproof backpacks. Thanks to the PU coating and taped seams, everything is guaranteed to stay dry.

The RainCover is equipped with an elastic wraparound drawstring and a cord stopper. This ensures a snug and flutter-free fit on the backpack.

A stuffsack is integrated in all RainCovers. Sizes S and M even have a holder for a bike light. The four different sizes cover most backpack sizes.
Weight
S: 2.5 oz
M: 3.4 oz
L: 3.9 oz
XL: 3.9 oz
Volume
S: 25 l
M: 35 l
L: 45 l
XL: 75 l
Material
70 D nylon
PU coated
Oeko-Tex® 100 certified
DWR C6
Oeko-tex certified material
Oeko-Tex® is a testing and Certification system for raw materials and finished products. EXPED does not feature fully tested products. The listed products aren't certified under this standard. Only accordingly specified materials are certified.
oeko-tex.com
Made in China: Jasper Outdoor Products
Founded in 1996, Jasper Outdoor Products is one of the world's leading manufacturers of outdoor products.
more