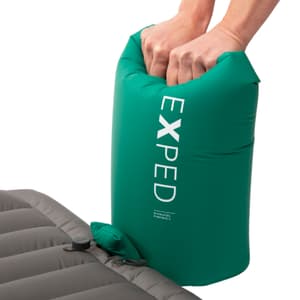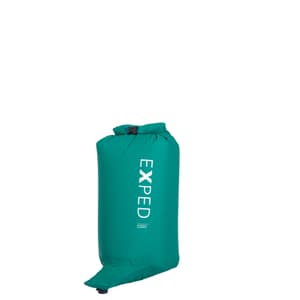 Schnozzel Pumpbag
Durable pump bag for rapid mat inflation
fast, moisture-free inflation
robust, recycled material, compact pack size
can also be used as a waterproof compression pack sack
Note: Size S and L not available in the USA
Schnozzel Pumpbag S
Prod. no. 7640277841659
Product description
The Schnozzel Pumpbag is a robust pump bag made of recycled material, ideal for a quick, moisture-free inflation of EXPED mats.
In addition to its function as a pump bag, the Schnozzel Pumpbag can also be used as a waterproof compression pack sack for clothes or sleeping bags.
When combined with the Universal Valve Adapter or the FlatValve Adapter, the Schnozzel Pumpbag can inflate almost any mat or inflatable.
Weight
S: 2.8 oz
M: 3.9 oz
L: 6.2 oz
Flat Valve compatibility
yes
Dimensions
S: 23.6 x 7.9 x 6.7 in
M: 27.2 x 15.4 x 6.7 in
L: 31.5 x 15.7 x 11.8 in
Water resistance
Waterproof
Material
recycled 70 D nylon
PU coated
Recycled materials
More and more EXPED products are made from recycled materials. Materials gained from previously made materials -such as PET-bottles or waste from the production of textiles.
Made in China: Jasper Outdoor Products
Founded in 1996, Jasper Outdoor Products is one of the world's leading manufacturers of outdoor products.
more