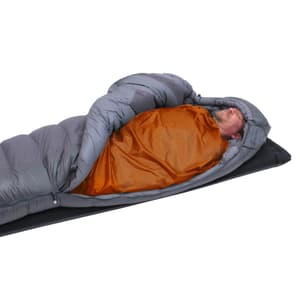 VBL Linerbag UL
The Vapor Barrier Liner for use in sleeping bags in sub-zero temperatures
barrier protects sleeping bag filling from body moisture
retains heat
doubles as an emergency bivy bag
VBL-Linerbag UL
Prod. no. 7640120118945
Product description
The VBL Linerbag UL is an ultra-light sleeping bag liner for low temperature use. It is the ideal companion for longer trips in sub-zero conditions. With its low weight and small packed size, it fits in any pack.

At extremely low temperatures, even the best down and synthetic sleeping bags can absorb moisture through the vapor emitted by the body. This causes the sleeping bag to become heavier over time and can lead to clumping and loss of insulation of the down filling. The VBL Linerbag UL prevents this from occurring. As a thin layer between the body and the sleeping bag, it inhibits the transfer of moisture and thus protects against cooling down.

Thanks to the taped seams, the VBL Linerbag can also be used as a waterproof emergency bivy sack. It can be packed easily and quickly in the integrated stuffsack, which can also be used as an inner pocket for small personal items.
Made in China: Jasper Outdoor Products
Founded in 1996, Jasper Outdoor Products is one of the world's leading manufacturers of outdoor products.
more