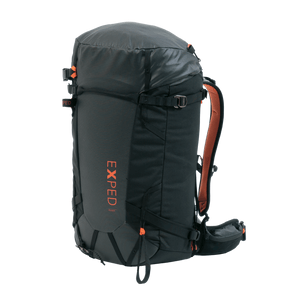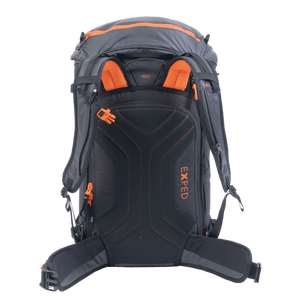 Couloir 30
Alpine winter touring backpack with back panel access
large back panel access and large toploader opening
attachment options for equipment
recycled fabrics
229.95 USD
Couloir 30 black
Prod. no. 7640445456494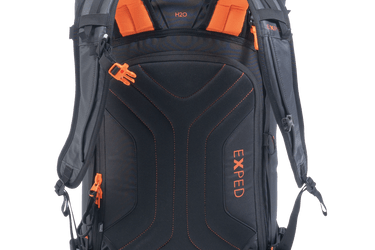 The zipper on the back and a smart toploader opening from the carrying side allow quick, practical access to the main compartment.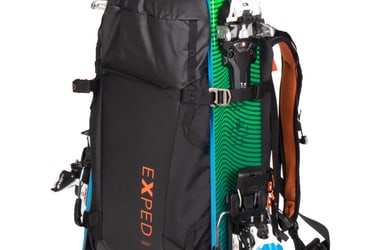 Skis can either be tied on to the side as an A-frame ...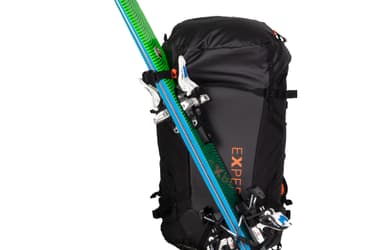 ...or quickly and practically fastened diagonally.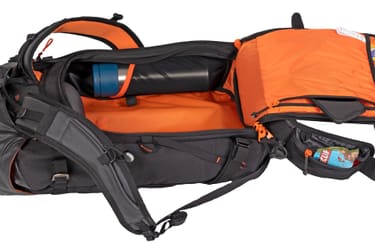 Thanks to the many compartments and generous back access super overview and top organization of the equipment.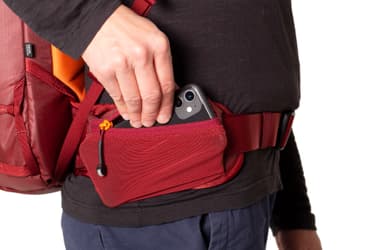 Stretch mesh zippered pocket and stretch mesh stash pocket on the hip belt
 
Product description
The Couloir 30 is an extremely versatile and long-lasting winter backpack. It is the ideal companion for day trips with skis or snowboard and snow shoe adventures.

To keep the suspension system dry when the pack is placed in the snow, access is possible through both the 270° zippered opening of the back panel or a smart top lid opening from the carrying side. This makes organizing and stowing gear extremely easy and convenient.

Skis and splitboards can be easily strapped on in three different ways. The included webbing straps with buckles also allow snowboards and snowshoes to be attached vertically to the front of the pack. All pockets and compartments are easily accessible even when wearing gloves. The gear loops can be removed when not in use. The two  ice axe attachments can be positioned freely.

The comfortable back, padded shoulder straps and hip belt make the Couloir extremely comfortable to carry. The fabrics used are not only water repellent and PFC-free, but also recycled.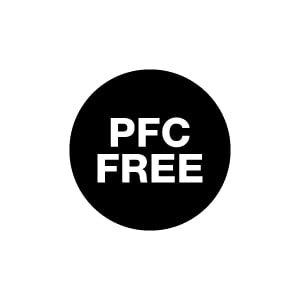 Dimensions
12.2 x 22 x 8.7 in
Color Inside
black: dark lava
dark lava: dark lava
Main Fabric
recycled 420 D ripstop nylon carbonate
PU coated
1500 mm water column
Oeko-Tex® 100 certified
Pack suspension
Spring steel U-frame
Main Fabric 2
recycled 600 D Oxford Cordura polyester
PU coated
1500 mm water column
bluesign® certified
Lining Fabric
recycled 150 D polyester
PU coated
3000 mm water column
Recycled materials
More and more EXPED products are made from recycled materials. Materials gained from previously made materials -such as PET-bottles or waste from the production of textiles.
Oeko-tex certified material
Oeko-Tex® is a testing and Certification system for raw materials and finished products. EXPED does not feature fully tested products. The listed products aren't certified under this standard. Only accordingly specified materials are certified.
oeko-tex.com
Bluesign certified material
Bluesign®, the world's strictest textile standard for environmental protection and consumer protection in textile production. The listed products aren't certified under this standard. Only accordingly specified materials are certified.
bluesign.com
PFC-free
Abbreviation for Per- or poly fluorinated chemicals, also known as fluorcarbons. Non degradable and accumulating toxic chemicals used for waterproofing.
Made in Vietnam: Vision Bag
The Korean-owned company Vision Products Corporation has been producing backpacks and bags since 1984.
mehr
Are EXPED backpacks waterproof?
The EXPED backpack line includes both waterproof and weatherproof models. Waterproof means these backpacks keep water out unless submerged in water. Weatherproof means that the fabric and seams are completely waterproof, but zippers and hydration ports are water resistant and not 100% waterproof.
All other backpacks in the EXPED line have coated fabrics to prevent water penetration. These backpacks do not have taped seams. Typically, other features such as durability or weight reduction are the focus of these products and are designed to be used with our waterproof drybags to keep the contents dry.
Waterproof Models: Whiteout, Black Ice, Torrent, Work and Rescue, Typhoon, Kids Typhoon, Cloudburst, Splash, Stormrunner, Tempest
Weatherproof models: Serac, Icefall, Mountain Pro, Cascade
What is the back length of my backpack?
Extra Short (XS) = 36 - 41 cm / 14.2 - 16.1 in
Small (S): 42 - 47 cm / 16.5 - 18.5 in
Medium (M): 48 - 52 cm / 18.9 - 20.5 in
Long (L): 53 - 58 cm / 20.9 - 22.8 in
Adjustable Men's: 41 - 57 cm / 16.1 - 22.4 in
Adjustable Women's: 36 - 53 cm / 14.2 - 20.9 in