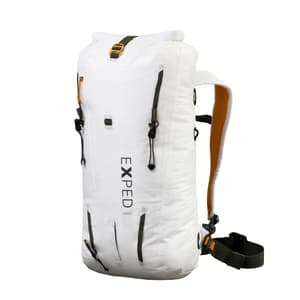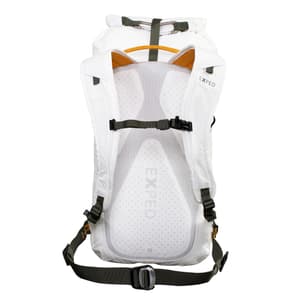 WhiteOut 30
Extremely lightweight, tough and waterproof alpine pack
very light, abrasion resistant UHMPE ripstop fabric
low profile ice tool configuration for snug attachment of alpine tools
for mountaineering and expedition use
399.95 USD
Whiteout 30 S white
Prod. no. 7640277843134
Product description
The waterproof Whiteout 30 is made of a unique bluesign© certified UHMPE ripstop fabric. The extremely abrasion and tear resistant as well as UV resistant material makes it the ideal companion for mountaineering and expedition use. 
This backpack combines minimalist features and waterproof construction with a roll-top closure and remarkably lightweight, material. The seams are seam-taped and the fabric laminated with TPU film withstands a water column of 20'000 mm.
The low profile ice tool configuration ensures a snug attachment of alpine tools. An outer pocket with zipper provides space for smaller items and minimal daisy yet versatile chains attachment various options for gear attachment. 
The carrying system is intentionally minimalist in a lightweight construction, and a removable hip belt provides better support. A removable back panel with EVA padding can be used as a sit pad in a bivy if needed.
 
Water resistance
Waterproof
Main material
200 D ripstop UHMPE fabric
TPU film laminate
20,000 mm water column
bluesign® certified
PFC free
Pack suspension
Removable PE foam board
EVA padding
Bluesign certified material
Bluesign®, the world's strictest textile standard for environmental protection and consumer protection in textile production. The listed products aren't certified under this standard. Only accordingly specified materials are certified.
bluesign.com
PFC-free
Abbreviation for Per- or poly fluorinated chemicals, also known as fluorcarbons. Non degradable and accumulating toxic chemicals used for waterproofing.
Made in China: Jasper Outdoor Products
Founded in 1996, Jasper Outdoor Products is one of the world's leading manufacturers of outdoor products.
more
Are EXPED backpacks waterproof?
The EXPED backpack line includes both waterproof and weatherproof models. Waterproof means these backpacks keep water out unless submerged in water. Weatherproof means that the fabric and seams are completely waterproof, but zippers and hydration ports are water resistant and not 100% waterproof.
All other backpacks in the EXPED line have coated fabrics to prevent water penetration. These backpacks do not have taped seams. Typically, other features such as durability or weight reduction are the focus of these products and are designed to be used with our waterproof drybags to keep the contents dry.
Waterproof Models: Whiteout, Black Ice, Torrent, Work and Rescue, Typhoon, Kids Typhoon, Cloudburst, Splash, Stormrunner, Tempest
Weatherproof models: Serac, Icefall, Mountain Pro, Cascade
What does the distinction between "waterproof", "weatherproof" and "water repellent" mean?
All backpack fabrics used by EXPED are by definition "waterproof" due to their coating and have a water column of at least 1500 mm. The distinction therefore relates primarily to construction and processing:
In "water-resistant" backpacks, water can enter the backpack through the seams and through the zippers.
We define "weatherproof" as backpacks with a water column of at least 3000 mm, which also have water-repellent zippers to the main compartment and seam-taped seams. Although the zippers are very water repellent, water can enter through the zipper during heavy rains.
Our backpacks labeled "waterproof" have a water column of 3000 to 10'000 mm, are also seam sealed or welded, but use water repellent zippers only on exterior compartments, not on the main compartment. The main compartment of these models have a waterproof seal by means of a roll top. In these models, we do not refer to exterior compartments with zippers as "waterproof", but only as "weatherproof". No rule without exception: A 100% waterproof Drysuit zipper is used on the Tempest Duffles.
The stated dimensions of my pack result in a different volume. Why?
EXPED measures the volume of its packs using standardized plastic balls. The volume declarations are exact. The external dimensions are measured at the widest point. Calculating volume based on dimensions can lead to different values.
What is the back length of my backpack?
Extra Short (XS) = 36 - 41 cm / 14.2 - 16.1 in
Small (S): 42 - 47 cm / 16.5 - 18.5 in
Medium (M): 48 - 52 cm / 18.9 - 20.5 in
Long (L): 53 - 58 cm / 20.9 - 22.8 in
Adjustable Men's: 41 - 57 cm / 16.1 - 22.4 in
Adjustable Women's: 36 - 53 cm / 14.2 - 20.9 in