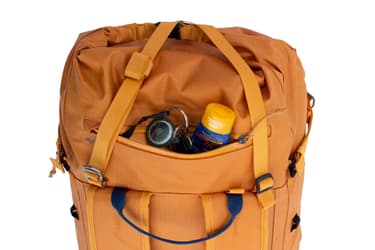 Zipped pocket accessible from the outside for all kinds of important small items or quick access to sunglasses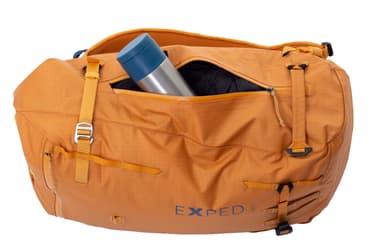 Long side zipper for quick access to the main compartment
Generously sized front pocket for shovel, ski skins etc.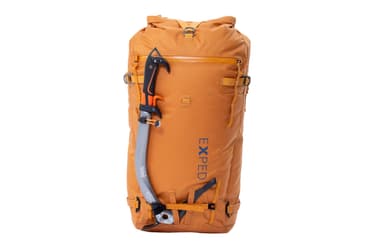 Ice axe attachment with side-release buckle for one or two ice tools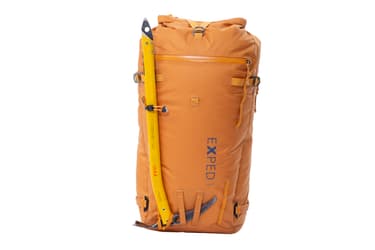 Snug ice axe fixation – classic method with webbing loop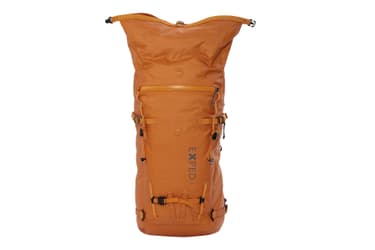 additional volume thanks to roll-top closure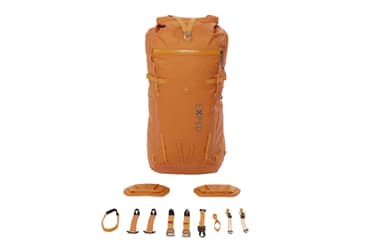 detachable components allow the backpack to be adapted to individual needs and activities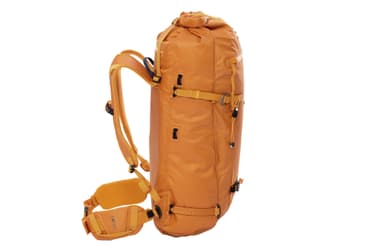 Lightweight, padded and removable hip pads (included with the 50 L, available separately for the 30 L and 40 L)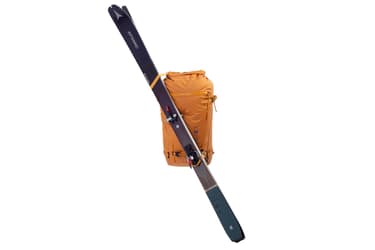 Skis can be carried diagonally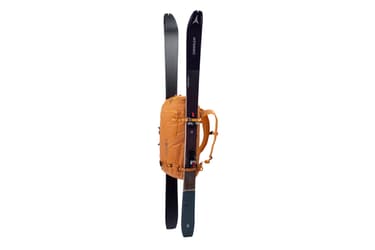 Product description
The Serac 40 is a lightweight, minimalist and weatherproof alpine backpack for mountain tours - in any weather, whether summer or winter. It offers all the necessary features for a fully equipped winter alpine backpack and scores with more comfort in handling and organization. It is the perfect companion for alpinists looking for a versatile pack for any weather and mountain activity. The slightly larger volume also offers enough space for slightly longer tours.

The high-quality, waterproof ripstop nylon with a water column of 10,000 mm, taped seams, a roll-top closure and sealed zippers protect against moisture and snow. The white, PFC-free lamination inside provides the best overview.

The Serac not only offers a lot of volume in the front pocket but also an additional zippered pocket accessible from the outside for smaller items. Removable side compression straps and a new arrangement of ice axe loops and ski fixation facilitate the attachment of skis or ice tools. In addition, the backpack can be easily adapted to individual needs and the season.

The long, water-repellent zipper is located on the side of the backpack and allows quick access to clothing, gloves, the bottle, etc.. The simple, yet purposefully padded back design provides a close-to-body fit and direct load transfer. A removable, waist strap provides more support while carrying. A new, convenient tube outlet for a hydration system rounds out this versatile 4-season backpack.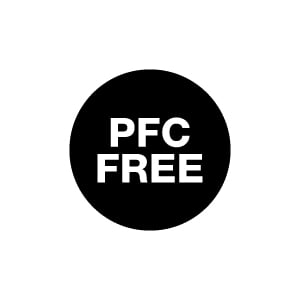 Volume
S: 38 l
M: 38 l
L: 38 l
Color Inside
gold: white
black: white
navy: white
Water resistance
Waterproof
Material
400 D ripstop nylon
TPU film laminate
10,000 mm water column
PFC free
Pack suspension
Removable PE foam board
EVA padding
Product with Climate Contribution
EXPED calculates all climate emissions from the production and transportation of this product and finances certified climate protection projects through myclimate to an equal extent.
declaration
PFC-free
Abbreviation for Per- or poly fluorinated chemicals, also known as fluorcarbons. Non degradable and accumulating toxic chemicals used for waterproofing.
Made in China: Jasper Outdoor Products
Founded in 1996, Jasper Outdoor Products is one of the world's leading manufacturers of outdoor products.
more
Are EXPED backpacks waterproof?
The EXPED backpack line includes both waterproof and weatherproof models. Waterproof means these backpacks keep water out unless submerged in water. Weatherproof means that the fabric and seams are completely waterproof, but zippers and hydration ports are water resistant and not 100% waterproof.
All other backpacks in the EXPED line have coated fabrics to prevent water penetration. These backpacks do not have taped seams. Typically, other features such as durability or weight reduction are the focus of these products and are designed to be used with our waterproof drybags to keep the contents dry.
Waterproof Models: Whiteout, Black Ice, Torrent, Work and Rescue, Typhoon, Kids Typhoon, Cloudburst, Splash, Stormrunner, Tempest
Weatherproof models: Serac, Icefall, Mountain Pro, Cascade
What does back length mean and how is it measured?
The torso length is the length of a person's back, measured from the hip to the shoulder, and is an important factor in the fitting process of a backpack.
Depending on the volume of the backpack and its intended use, the suspension system of a backpack becomes a key criterion. Determining back length is not as critical for shorter hikes or everyday backpacks, but is crucial for expedition, trekking and touring backpacks. With these backpacks, the pack weight can only be optimally transferred to the hips if the back length and suspension system are correctly matched.
The center of the hip belt is ideally located on the hip bones (upper edge of the pelvis) and the sacrum to carry most of the load, especially with large internal frame backpacks. There are exceptions where a shorter backpack length is better, such as in alpine situations, because this allows a shorter overall length of the backpack suspension system to allow easier access to the climbing harness.
To determine your back length, use a tape measure to measure the distance from the top of your shoulders to the top of your hip bone (pelvic rim). This is best done by a friend who can properly place and read the tape measure on your back. Any EXPED retailer should also be able to help you determine your back length.